Vecoxan 2.5 mg/ml oral suspension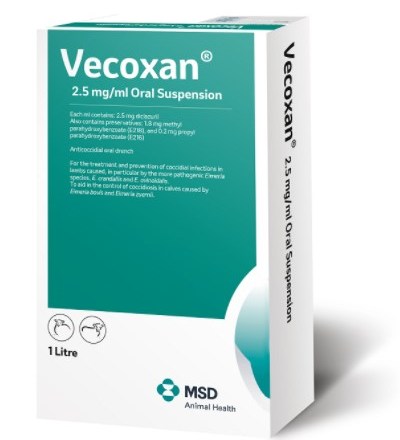 Product Information for Veterinary Healthcare Professionals
Oral suspension containing
Active substance: mg/ml Diclazuril 2.5
Excipients:
Methyl Parahydroxybenzoate 1.8
Propyl Parahydroxybenzoate 0.2
Responsible use of Anti-parasitic products
MSD Animal Health supports the responsible use of anti parasitic products.
For more information please refer to Responsible Use of Medicines in Agriculture (RUMA) to download RUMA Guidelines for Responsible use of anti parasitic products in animal production. Many farm assurance schemes also produce similar guidelines to support best practice.
For uses, dosage, contra-indications and warnings, please see data sheet. Use medicine responsibly.
If you are not the prescribing veterinary surgeon, advice should be sought from the medicine prescriber.
Legal Category
POM-VPS
Packaging quantities
200 ml, 1 litre, 2.5 litre and 5 litre high density polyethylene bottle with high density polyethylene cap (screw fit, tamper evident) with white PVDC coated paper insert. Not all pack sizes may be marketed.
Summary of Product Characteristics
For Summary of Product Characteristics, first click on this link. Then type in Vecoxan in Product name field. Click on Run search. Subsequently click on View SPC on line listing opposite Vecoxan 2.5 mg/ml oral suspension.