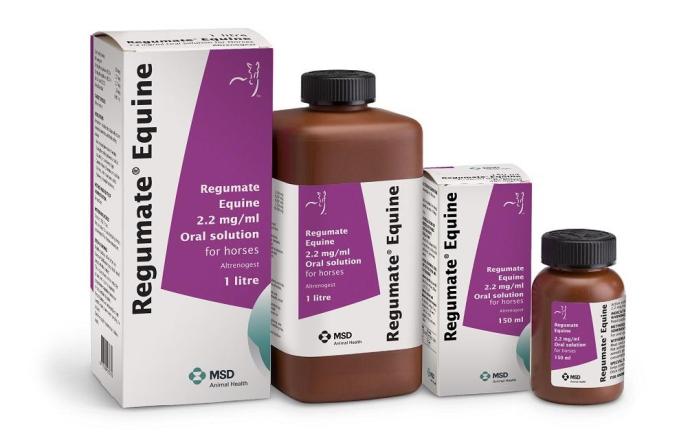 An oral hormone containing altrenogest for use in horses. This product may only be prescribed by your veterinary practitioner from whom advice must be sought.
Product Infromation for Vets – Regumate Equine
Regumate Equine is a hormonal treatment for mares. Each ml contains 2.2mg altrenogest. It may be used to suppress and prevent the signs of oestrus in mares, which may be particularly useful early in the breeding season. It is also used strategically as part of a breeding program to control the cycle of breeding mares, allowing synchronisation of oestrus and mating, which means greater efficiency of time spent at stud. It is a synthetic progestagen that produces no untoward side effects. Care in administration is paramount, particularly for female stud hands. For uses, dosage, contra-indications and warnings, see datasheet. Further information is available on request.
Use medicines responsibly.

Legal Category:
POM-V 

Packaging Quantities 
150 ml, 250 ml, 300 ml and 1 litre bottles. 
Not all pack sizes may be marketed.
Datasheet
For Summary of Product Characteristics, first click on this link. Then type in Regumate Equine in Product name field. Click on Run search. Subsequently click on View SPC on line listing opposite Regumate Equine.