Porcilis Porcoli Diluvac Forte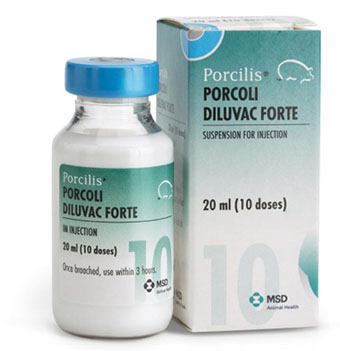 An inactivated vaccine for the vaccination of sows and gilts to give piglets protection against neonatal enterotoxicosis caused by E. coli via colostrum intake. This product may only be prescribed by your veterinary practitioner from whom advice must be sought.
Product information for Veterinary Healthcare Professionals
Porcilis Porcoli Diluvac Forte is an inactivated vaccine for the passive immunisation of piglets by active immunisation of sows/gilts to reduce mortality and clinical signs such as diarrhoea due to neonatal enterotoxicosis during the first days of life, caused by those E.coli strains, which express the fimbrial adhesins F4ab (K88ab), F4ac (K88ac), F5 (K99) or F6 (987P).
Further information is available on request. Use medicines responsibly.

Legal category
POM-V
Packaging Quantities
Cardboard box with 1 glass (hydrolytic type I) or 1 PET vial of 20, 50 or 100 ml with a halogenobutyl rubber stopper and a colour-coded aluminium cap.Not all pack sizes may be marketed.
Summary of Product Characteristics
For Summary of Product Characteristics click on this link.