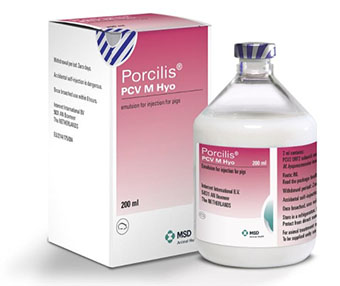 Porcilis PCV M Hyo is a combined subunit / inactivated vaccine against Porcine PCV2 and Mycoplasma hyopneumoniae.
Product Information for Veterinary Healthcare Professionals
Vaccine emulsion for use in pigs. Each 2 ml of vaccine contains:
Active substances:
Porcine circovirus type 2 (PCV2) ORF2 subunit antigen ≥ 2,828 AU1
Mycoplasma hyopneumoniae J strain inactivated ≥ 2.69 RPU2
Adjuvants: Light mineral oil and Aluminium (as hydroxide)
1. Antigenic units as determined in the in vitro potency test (ELISA)
2. Relative potency units defined against a reference vaccine.
Indications:
For the active immunisation of pigs to reduce viraemia, virus load in lungs and lymphoid tissues, virus shedding caused by porcine circovirus type 2 (PCV2) infection, and severity of lung lesions caused by Mycoplasma hyopneumoniae infection. To reduce the loss of daily weight gain during the finishing period in face of infections with Mycoplasma hyopneumoniae and/or PCV2 (as observed in field studies).
Porcilis PCV M Hyo may only be prescribed by your veterinary practitioner for animals under his/her care. Advice should be sought from your prescriber prior to use. Further information is available on request. Use medicines responsibly. 
Legal category
POM-V
Packaging quantities
Cardboard boxes with either 1 or 10 PET vials of 20, 50, 100, 200 or 500 ml.
Not all pack sizes may be marketed.
Summary of Product Characteristics
For Summary of Product Characteristics, please click on this link.