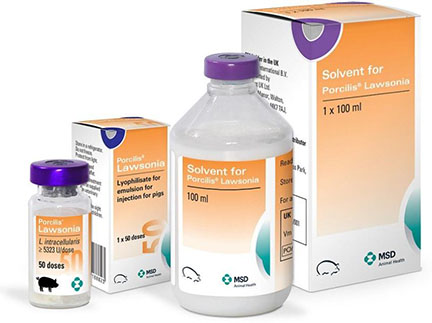 Product information for Veterinary Healthcare Professionals
Porcilis Lawsonia is a lyophilised vaccine which is accompanied by solvent for injection which on mixing and shaking creates a white to nearly white emulsion. Each 2 ml dose contains Inactivated Lawsonia intracellularis strain SPAH-08. Light mineral oil and aluminium(as hydroxide) are included as adjuvants.
Further information is available on request. Use medicines responsibly.

Legal category
POM-V
Packaging Quantities
PET vial of 100 ml or 200 ml. Not all pack sizes may be marketed.
Summary of Product Characteristics
For Summary of Product Characteristics, first click on this link. Then type in Porcilis Lawsonia in Product name field. Click on Run search. Subsequently click on View SPC on line listing opposite Porcilis Lawsonia