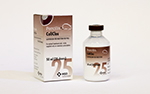 For the passive immunisation of progeny by active immunisation of sows and gilts to reduce mortality and clinical signs during the first days of life, caused by those E. coli strains, which express the adhesins F4ab (K88ab), F4ac (K88ac), F5 (K99) or F6 (987P) and caused by C. perfringens type C.
Porcilis Coliclos is a liquid vaccine with a precipitate which resuspends on shaking. Each 2 ml dose contains Escherichia coli components: F4ab, F4ac, F5 and F6 fimbrial adhesins, LT toxoid and Clostridium perfringens component: Type C (strain 578) beta toxoid. dl-alpha-tocopheryl acetate 150 mg is included as adjuvant.
Further information is available on request. Use medicines responsibly. 

Legal category
POM-V
Packaging Quantities
PET vial of 20 ml, 50 ml, 100 ml, 200 ml or 250 ml. Not all pack sizes may be marketed.
Datasheet
For Summary of Product Characteristics, first click on this link. Then type in Porcilis Coliclos in Product name field. Click on Run search. Subsequently click on View SPC on line listing opposite Porcilis Coliclos