Optimmune Ophthalmic Ointment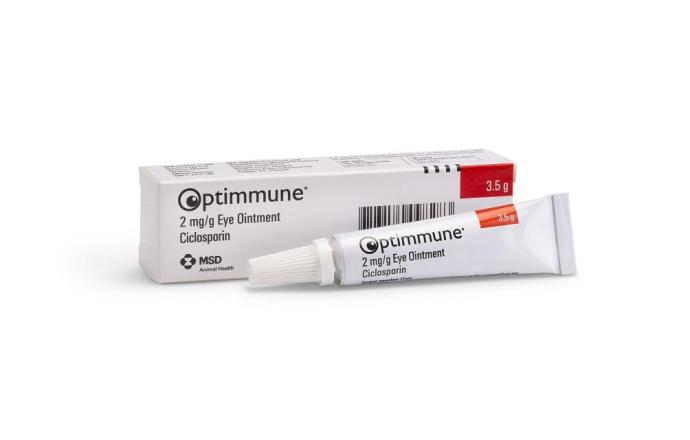 Cyclosporin is an immunosuppressant with lacrimomimetic and anti-inflammatory properties.
In the dog, Optimmune is indicated for the treatment of chronic recurrent conjunctivitis resulting from auto-immune disease of the eye. Optimmune is indicated for the therapeutic treatment of keratoconjunctivitis sicca (KCS, `dry eye') and chronic superficial keratitis (`pannus').
Product information for Veterinary Healthcare Professionals
Optimmune is a white petrolatum based ointment for ophthalmic use, containing 0.2% w/w cyclosporin Ph. Eur. 
KCS is a common condition, affecting 1:22 of all dogs. It is painful and, if not correctly managed, can result in permanent blindness.
Optimmune may be used to augment topical corticosteroids or as a substitute for corticosteroids when these are contraindicated by corneal ulceration.
For uses, dosage, contra-indications and warnings please consult product leaflet. Further information is available on request. Use medicines responsibly.
Legal Category
POM-V
Packaging Quantities
3.5 g tubes
Summary of Product Characteristics
For Summary of Product Characteristics, first click on this link. Then type in Optimmune in Product name field. Click on Run search. Subsequently click on View SPC on line listing opposite Optimmune.
Publications