Product Information for Veterinary Healthcare Professionals
Live, freeze-dried vaccine aganist avian rhinotraceheitis. Each dose of vaccine contains at least 101.5-3.7 TCID50 avian rhinotraceheitis vaccine virus. The vaccine pellet contains stabilizers. For uses, dosage, contra-indications and warnings please consult product leaflet. Further information is available on request. Use medicines responsibly.
Legal category:
POM-V
Packaging quantities:
Vials containing 1000 doses ; 10 vials containing 1000 doses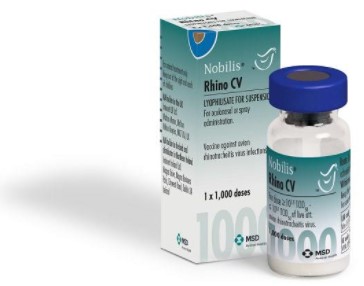 Summary of Product Characteristics
For Summary of Product Characteristics, first click on this link. Then type in Nobilis Rhino CV in Product name field. Click on Run search. Subsequently click on View SPC on line listing opposite Nobilis Rhino CV.