A live vaccine against Newcastle Disease virus for use in poultry. This product may only be prescribed by your veterinary practitioner from whom advice must be sought.
Product Information for Veterinary Healthcare Professionals
Live, freeze-dried virus vaccine against Newcastle Disease. Each dose contains at least 106.0 EID50 Newcastle disease virus (strain Clone 30). For administration by spray or in drinking water.
For uses, dosage, contra-indications and warnings, please see data sheet. Use medicine responsibly. Further information is available on request.
Legal category
POM-V
Packaging Quantities
10 ml glass vials (hydrolytical type II or type I Ph.Eur.) containing the freeze-dried pellet, closed with a halogenobutyl rubber bung and sealed with a colour-coded aluminium cap.
Vials may contain 500, 1000, 2500, 5000 or 10,000 doses.
Not all presentations may be marketed.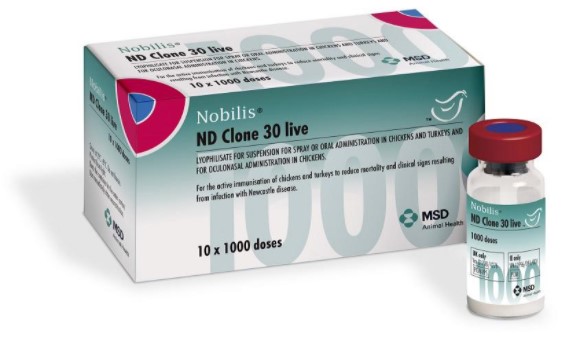 Summary of Product Characteristics
For Summary of Product Characteristics, first click on this link. Then type in Nobilis ND Clone 30 in Product name field. Click on Run search. Subsequently click on View SPC on line listing opposite Nobilis ND Clone 30.