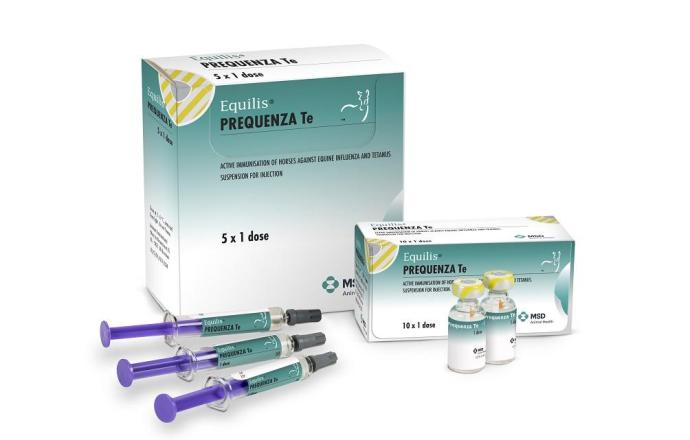 An inactivated vaccine against influenza and tetanus for use in horses. This product may only be prescribed by your local veterinary practitioner from whom advice should be sought.
Product Information for Veterinary Healthcare Professionals
Equilis Prequenza Te is a vaccine for the active immunisation of horses from six months of age against equine influenza to reduce clinical signs and virus excretion after infection, an active immunisation against tetanus.
Equilis Prequenza Te is a clear, opalescent suspension for injection for horses containing the following Equine influenza virus strains per 1 ml dose:
A/equine-2/South Africa/4/03 50AU1
A/equine-2/Newmarket/2/93 50AU1
Tetanus toxoid 40 Lf2
1 Antigenic units
2 Flocculation equivalents; corresponds with > 30 IU/ml guinea pig serum in the Ph. Eur. potency test.
Equilis Prequenza Te contains the unique biological delivery, ISCOM-Matrix®.
For uses, dosage, contra-indications and warnings please consult product leaflet. Further information is available on request. Use medicines responsibly.
Legal Category:
POM-V
Packaging Quantities
Box with 10 glass vials of 1 ml.
Box(es) with 1, 5 or 10 pre-filled syringes with needles.
Not all pack sizes may be marketed.
Summary of Product Characteristics
For Summary of Product Characteristics, click on this link.