Bravecto chewable tablets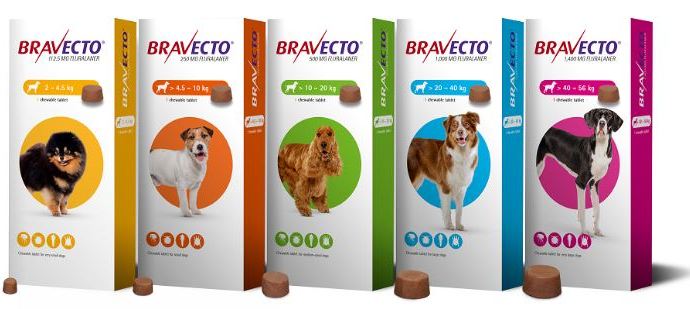 Chewable tablets containing fluralaner.
Product information for Veterinary Healthcare Professionals.
Bravecto is a chewable tablet for dogs containing fluralaner. It is for the treatment and prevention of flea and tick infestations in dogs. Bravecto may only be prescribed by a veterinary practitioner for animals under his/her care. Advice should be sought from your prescriber prior to use. Further information is available on request. Use medicines responsibly.
Legal category 
POM-V
Packaging Quantities
All of the following packs are available in single chew or two chew pack sizes:
Bravecto 112.5 mg chewable tablets for very small dogs (2-4.5 kg)
Bravecto 250 mg chewable tablets for small dogs (>4.5-10 kg)
Bravecto 500 mg chewable tablets for medium-sized dogs (>10-20 kg)
Bravecto 1000 mg chewable tablets for large dogs (>20-40 kg)
Bravecto 1400 mg chewable tablets for very large dogs (>40-56 kg).
Not all pack sizes may be marketed.
Summary of Product Characteristics
For Summary of Product Characteristics click on this link.